It was with great shock and sadness that the members of Wicklow Swimming Club heard of the death of Margaret O'Flatherty when they gathered on the pier on Sunday morning.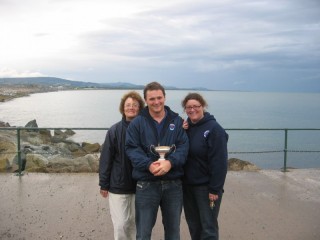 Margaret was involved with the club nearly from the time she arrived in Wicklow from Tramore via Castlebar in 1974. She settled in as a very popular teacher of Irish , German and Maths in DCW. Herself and Eamonn built their beautiful house in Dunganstown and quickly filled it with their 7 wonderful children. Although Brittas Bay was the closest beach, following their children's friends they made their way to Wicklow harbour to swim. Margaret signed up for family membership in Wicklow Swimming Club and it wasn't long before the O'Flatherty name became a regular feature in the results column of the Wicklow People.
When Caitriona was 4 years old the O'Flatherty children started their water safety lessons along with the other youngsters of the town. At this time, some of the other mothers, including Margaret were coaxed back into the water and under the keen eye of the Hoeys, went back to school and did their water safety exams. Irish water safety soon became an important part of Margaret's life. Having completed her exams she became first an instructor and then an Irish water safety examiner. Over the years hundreds of children and adults passed through her hands in the sea and both Bray and Wicklow swimming pools.
During the 80's and 90's Margaret and the O'Flathertys became a force to be reckoned with in the summer sea swims in Wicklow harbour. There's hardly a cup in the town that doesn't bear the name of at least one of them! And Eamonn was always there to cheer them on from the safety of the pier! Margaret eventually joined the Swimming Club committee and acted as club secretary for many years. She also served in the positions of Safety Officer, Recorder and President.
Right up to the time of her untimely death Margaret was out on the boats keeping an eye on the swimmers and then rushing back to do the results! She was always there with a kind word, some encouragement or to act as the perfect diplomat when others couldn't see eye to eye
Margaret, you were a truly special person who was taken from us too soon, you will always be remembered and dearly missed.
Wicklow Swimming Club
Go mbeannaigh Dia lena Ainm.